Comic-Con Day 2 Highlights - Build A Geek Brand Panel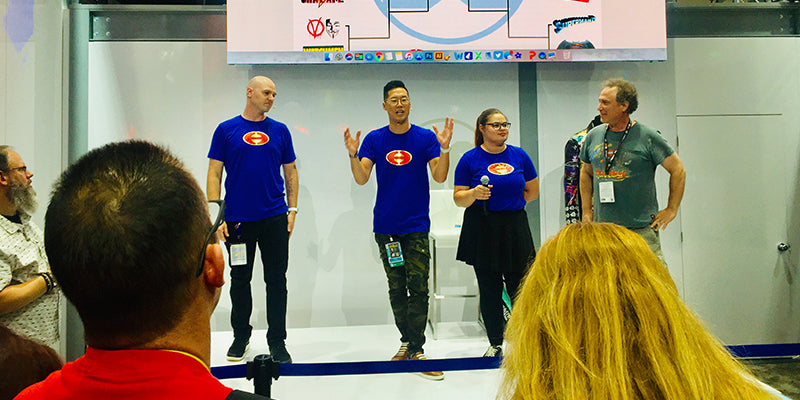 Friday of Comic-Con wore a solid hole in our shoes as Tony Kim and the whole Hero Within team found themselves all over the convention center. From our hopping booth, to the Build a Geek Brand panel, to the DC Comics Stage, Hero Within was everywhere - and we are just as excited about some of the news that came out of the day as you are! Check out a recap below.
Build A Geek Brand Panel
Our fan favorite panel, Build A Geek Brand, returned to Comic-Con as Hero Within founder Tony Kim led an intimate panel of content creators who shared their personal stories, accomplishments, and challenges associated with creating a company or personal brand within the modern, geek community.
Cosplayer Stella Chuu, author Genese Davis, tech and gaming host Trisha Hershberger, comic creator Victor Dandridge, and our own Tony Kim revealed their diverse backgrounds and origin stories. While their stories varied, from personal promises, to stories of persistence, a theme permeated their histories - they never gave up. At the end of the panel, audience members looking for advice were able to pick the brains of the panelists.

Each distinctly recalls the moment they decided they were going to pursue their passions. For Victor, it was the moment he realized how unhappy he was in his 9-5 job, so he quit to keep his promise to a family member that he would write comics for him, whereas Tony found himself forced to make a decision when he was layed off of work. Genese found herself starved for more stories of women in gaming when she found herself the only girl gaming online in 2002, and Trisha went to audition to audition, trying to 'be herself', and only found that joy when she was hired to host a tech and geek channel.

When it came to actually making a career with their passions, the most common theme and advice centered around consistency, which includes having a solid schedule (ie, new video every other Friday) and being able to keep up with that workload. Each advised practicing networking, and working to gain confidence while talking themselves up. Stella fully admitted the hardest thing for her was presenting her brand to complete strangers, but she practiced everywhere - car, shower, or even to herself in the mirror - and realized it's okay to be proud of your work. Of all the advice that permeated the panel, the most honest advice came from the greatest cliche - you have to love what you do and love yourself. "People don't buy what you do, they buy why you do it", Genese reminded the room, sharing her favorite piece of advice. It was universally acknowledged that creating content was one thing, but doing it because you love it and because you are passionate about it will take your story and brand above and beyond. Practically, Tony says your brand has to solve a problem, whether that's a lack of your content or a need for more, and all the panelists agreed that if you love what you do, remain consistent in your profession, and are passionate about creating it, your brand can only grow.
Movie Madness on the DC Stage!
The Hero Within crew joined SDCC fans at the massive (no really, this this is huge) DC Comics/WB booth for a DC Film version of Movie Madness! Hero Within staff and fans argued their cases for their favorite films, where some of the brackets were an easy choice (Wonderwoman vs. Man of Steel) and others were like picking a favorite child (original Batman vs original superman).
After a few tough rounds of passionate argued choices, our semi finals included The Dark Knight vs. Justice League (guess who won), Shazam vs V for Vendetta (again, take a guess), Wonderwoman vs. the original Batman (this was a tough one for the panelists, but the audience overwhelmingly chose Wonderwoman), and Suicide Squad vs Batman v Superman (Suicide Squad took this one). In the end, the final choices were between The Dark Knight and Wonderwoman where, with deafening applause, The Dark Knight seated itself on the throne (although our twitter poll seems to bend the other way!).
Oh Look, a Line!
For the first time in history, we had a true line queue for the 50th Anniversary Sweatshirts (with a real "line ends here" sign and everything!), which sold out in record time on the second day of the con. We are so grateful to everyone who came out and supported our booth throughout the day, and we promise to have more of the sweatshirts this morning!
Oh Look, COSPLAYERS!

While we weren't able to stop to grab many cosplay photos today, our social media gal Amy had to stop for a photo of Captain Ed Mercer and Lt. Alara Kitan (who had actually just come from The Orville Experience, open to the public) and a brilliant cosplay of The Hawks.
Oh Look, THE WITCHER TRAILER
Finally, we were ecstatic to see the trailer for Netflix's The Witcher, staring Henry Cavill. Heralded as Netflix's response to Game of Thrones, fans were generally thrilled with the trailer and we are so excited to see more!
Leave a comment
Comments will be approved before showing up.