Comic-Con Day 3 Highlights - Marvel, Marvel, and More Marvel!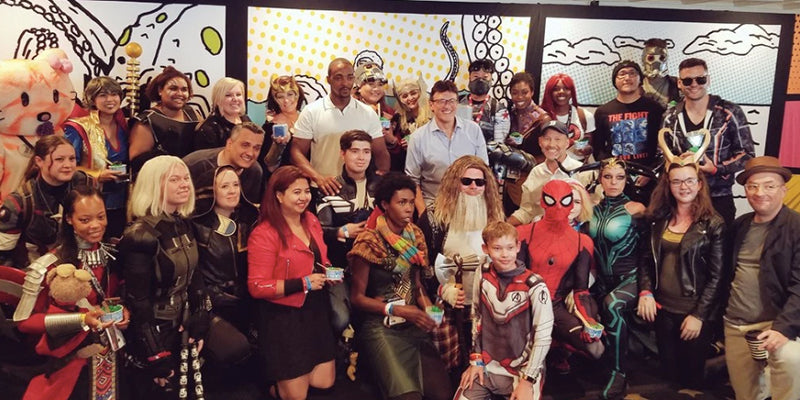 It was a whirlwind day at Comic-Con yesterday, with Marvel ruling the hearts of most of our Hero Within team. While some of our team were in Hall H when Marvel released their future plans, some of our team joined cosplayers on the IMDB Boat, where Anthony Mackie and the Russo Brothers presented fans with delicious 'hulk' themed ice cream, and posed for photos. Our team in Hall H also got a first look at a few other projects in the works. Check out our Hall H highlights and the gallery from the IMDB Boat below (as well as a few more of our favorite cosplays!).
Hall H Marvel Madness
It is a truth universally acknowledged that Hall H is the place to be for huge reveals and amazing guest appearances at SDCC. And this year did not disappoint, as Marvel brought it's A Game, revealing their lineup for the next few years.
Here are the things we are most excited about:
Lady Thor! And Taika Waititi taking the helm! Thor 4: Love and Thunder will see Natalie Portman take the helm of Lady Thor, alongside Chris Hemsworth and Tessa Thompson (who reveals that the new 'king' of Asguard will first be looking for a Queen.
Mahershala Ali in the new Blade film! The best part of the reveal was the complete surprise at the end of the panel. Let's just say, Marvel knows theatricality.
The Eternals cast! While many of us knew Eternals was coming, we were thrilled to learn that Angelina Jolie will lead a cast including Salma Heyek, Richard Madden, Brian Tyree Henry, Kumail Nanjiani, Lauren Ridloff, and Don Lee. Eternals will come out next November (we have no idea how they kept this so close to the belt, as shooting must certainly already be done).
Shang-Chi! Fans were thrilled to have a new hero introduced into the mix - martial arts master Shang-Chi; fans were even MORE excited to discover that Sium Liu will head the cast in the title role, alongside Tony Leung as the Mandarin!
Needless to say, we are very, very excited for the next few years.
Marvel Madness...On A Boat!
HeroWithin joined the IMDB Boat party in the bay of San Diego for few cocktails, and to see some amazing cosplayers! After Marvel shared that the Russo Brothers were going to do a meet and greet with cosplayers on the boat, fans began lining up as early as 6am for a chance to meet them. Anthony Mackie's appearance was an extra treat - as was the "Hulk" themed ice cream. Unfortunately, only the first 50 or so cosplayers actually got to meet the Brothers-Mac, but those dedicated fans got a group photo and our team took some individual shots. We've posted a few of our favorites in a gallery below. (You can find all these photos on our twitter page, where we encourage you to tag yourselves!)
(Also, we didn't miss the opportunity for a little branding)
Star Trek Picard Trailer!
Another huge hit for our Comic-Con Hall H team was the Picard trailer. Check it out below!
Leave a comment
Comments will be approved before showing up.