Comic-Con Day 4 Highlights - SOLD OUT!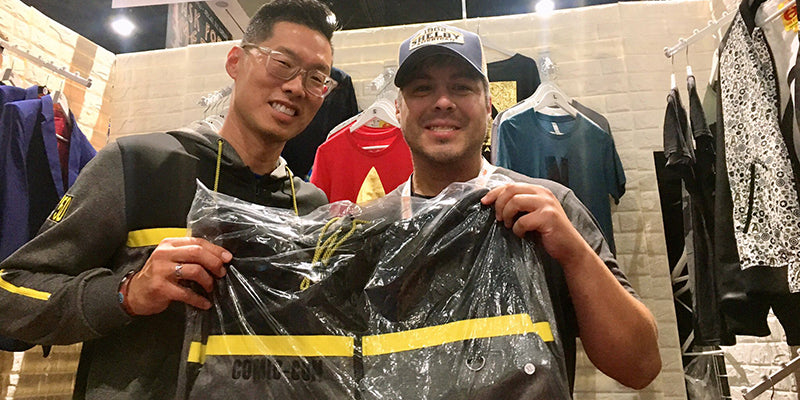 The final day of Comic-Con dawned bright and glorious, the San Diego sun shining upon the final hordes of attendees and coffee-fueled exhibitors as they made their way to the convention center one last time. For many, the last day of Comic-Con is always bittersweet, as saying goodbye is never easy. We were there as we said goodbye to the last of our anniversary hoodies, goodbye to Arrow, and goodbye to the convention floor. Check out our recap below!
Goodbye, Hoodie!
It's always a joy to say that we have been successful with our sales, and this year, we genuinely sold out of the 50th Anniversary Comic-Con Hoodies (last one went to Andrew pictured above). For all our fans who joined us at the booth, your passion blew us out of the water. At this time, we don't have any news in regards to making the hoodie available in the future but we'll let you know if that changes.
Goodbye, Arrow

It was a bittersweet end for more than one long-running visitor to Comic-Con, as both Supernatural and Arrow held their final panels in San Diego. Both shows are finishing their final seasons, and each panel was wrought with emotions. At Arrow's panel, actor Stephen Amell became visibly choked up as his fellow Arrow-verse stars celebrated his role in headlining the most successful television superhero universe. Fans were also treated to the news that Brandon Routh (Ray Palmer on Arrow and Legends of Tomorrow) will dawn the suit for the Kingdom Come version Superman for the epic Crisis on Infinite Earths crossover event later this year.

Goodbye, Convention Floor
For many fans, like our HeroWithin team, the last day of Comic-Con is "floor day", where fans run around for last minute meetups with friends and special discounts for items. We found no shortage of good deals (like Dark Horse's 50% off sale), and no shortage of excellent cosplays, including this exceptional Stranger Things cosplay:

We also had a chance to give away a few more t-shirts to dedicated fans who followed us on twitter and was able to find our blue Hero Within Cape on the floor. (Admittedly, one location was a LOT easier than others).
Goodbye, Booth Crew
We want to extend one final thank you to our hardworking SDCC Booth Crew, who worked tirelessly through the convention, from earlier this week through long past when the convention doors closed. We could not do it without you...even if it did kill you.
To our loyal fans, friends, and family who joined us for Comic-Con 2019, we are honored and thrilled to be among your ranks. We thank you all for your passion and cannot wait for our next convention! See you next year! (PS, founder Tony Kim would like some coffee now, please.)
4 Responses
Leave a comment
Comments will be approved before showing up.