Emily's Hero Story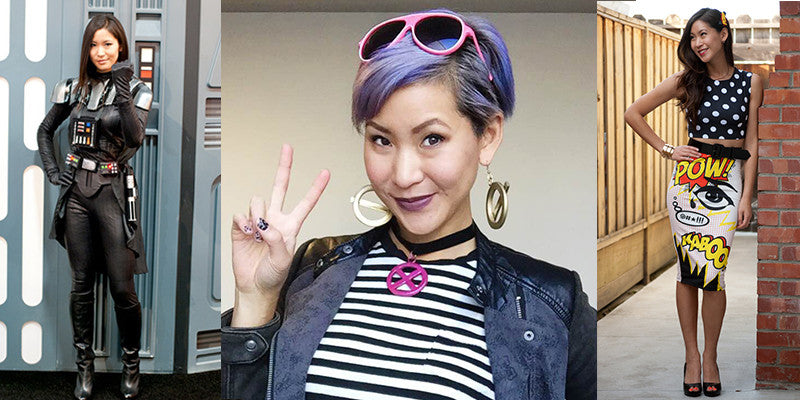 We've been a big fan of Emily Ong, aka
The Stylish Geek
, for a long time. Whether it's her amazing cosplay, helpful style blog or her transparent battle with cancer, she is a hero that has inspired many in the fashion and comic con community. She was one of the first on the interwebs to write about geek fashion and it has helped fans to merge their fandom and daily wear together. We had a chance to sit down and ask her some a few hero questions:
Who were you childhood heroes, fictional and in real life? Why?
My biggest real life hero was definitely Jim Lee. I was actually never really exposed to comics when I was a kid and one day a friend showed me the X-Men card series that he did (series 2). I was floored by his art - I had never seen anything like it and after that day, I was sucked into the world of comics.
As for fictional heroes, my hero was the one person every little girl dreams to be - Indiana Jones. 


In your opinion, who do you think is the most important hero in pop culture today and why?
That's a tough one!! I feel like there are so many, but the one that stands out to me is Wonder Woman. She's such an iconic and important heroine that paved the way for strong female characters in the comic book universe. And it's amazing how she's remained so relevant and still stands as a symbol of strength even today. 
I was diagnosed with breast cancer last year and I remember friends giving me Wonder Woman items like scarves, beanies, socks, etc. during that time and as silly as it sounds, wearing those things really did give me a lot of comfort and strength. 


How has our modern era of heroes inspired or influenced you?
After going through breast cancer treatment last year, I learned that heroes can be completely unexpected and can show up at any time. They can be the woman with months to live sitting next to you in a chemo room, the coworker who is one year cancer free that you aspire to be one year from now, or even the goddess, Thor, who you were surprised to find was diagnosed with the same cancer you had. It's so important to have all sorts of heroes in big and small packages because it's these heroes, both real life and fictional, that will give us the hope and strength to help fight our fights! 


Thanks Emily for sharing your story! Make sure to follow her on her blog and on Twitter at @Embigious
Leave a comment
Comments will be approved before showing up.