Final Thoughts on Comic-Con 2018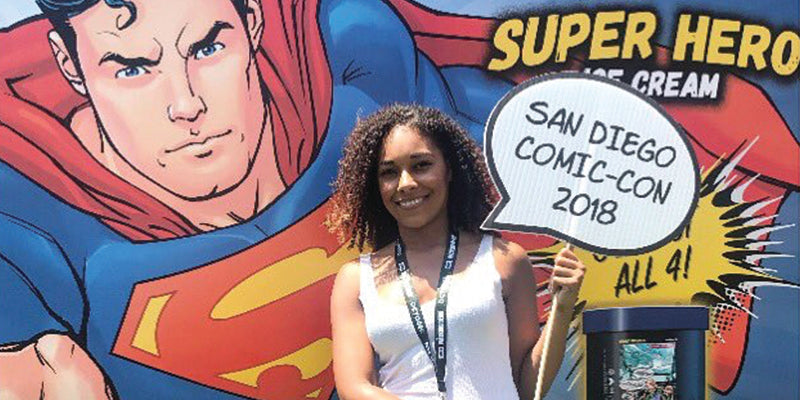 Tasmin Humphries was our staff writer for the week and she came here all the way from the UK to experience Comic-Con for the first time! 
San Diego Comic Con welcomes over 150,000 comic book and geek fans in the most famous and San Diego, this year was only the second for Hero Within, and what a great year it was for us!
Here are our highlights;
DC Comics Booth
Just before SDCC we announced one of our comic-con exclusives – The 80th Anniversary Superman Blazer. SDCC saw its first release and like our other items, it went down a treat with fans! Not only was it on display on our stand and modelled around the show, but it was also featured on the DC Comics booth! Along with some other incredible SUPER pieces, it was in a display case at the foot of their booth ready for DC fans to see. It even rotated and was superbly lit, to allow people to see it in all of its glory. As a company, it was incredible to get one of our products on that booth and was a really huge milestone for us. 
But the fun didn't end there… Tony Kim our CEO presented the origin story of Hero Within on the DC Booth stage with Trish Hershberger. This was a huge deal for us as we showcased Hero Within, what we do and what is coming up to the fans that made this possible. Our commercial reel ran as Tony and Trish highlighted our SDCC exclusives and gave away prizes to dedicated and new con-goers. To have this opportunity to present ourselves on the DC Comics booth and San Diego Comic Con is incredible and it was a privilege to be able to do so. Not only was it an opportunity to show them and our current fans what we can do, but it was a great opportunity to get in front of new potential customers!
Charity Auction
For the past three years we have ran a charity auction, which raises money to allow foster children access to comic books. Each year we create exclusive and limited edition WB Swag Back Jackets and offer them out to SDCC attendees in an exchange to do something good for the world. This year we teamed up with Leetal Platt, who is a New York based fashion designed who also previously won the Her Universe Fashion Show!
The auction took place at the start of SDCC and finished at noon on the final day. During its time at SDCC it also got up close, personal and doodled on by WBTV stars and DC Artists such as; Brandon Routh, Candice Patton, Grand Gustin, Colton Haynes, Alex Sinclair and Catt Staggs. A huge congratulations to our winner Jordan Hubbert and everyone who took part in this incredible cause! Here's to the next one!
After Party
We concluded SDCC 2018 with our annual after party at Volcano Rabbit! 2018 is our second year anniversary and we wanted to celebrate that with you guys, as we would not be where we are today if it wasn't for you. We even had exclusive Hero Within capes to hand out to our first 100 attendees, and it was great to see so many people yielding the Hero Within emblem on their backs! The night was hosted by DJ Sean Patrick, and there was never a moment when the dancefloor was empty. We danced the night away and so did you guys, and after a long week at comic-con that isn't easy! Thank you all for coming to celebrate our second year of Hero Within with us, see you next year!
Overall the show was very successful for us, and there was never a moment where the booth wasn't full of customers! We even doubled our initial sales records and goals from the previous year! Not bad for year two ey?! The hype and reaction to our Wonder Woman Jacket and the Black Widow Hoodie were unbelievable too! For each day we had a limited amount to sell, and each and every day we fulfilled it, even selling out of some sizes! Not only did we succeed in physical sales, but also for pre-orders. SDCC 2018 acted as the launch to our new Marvel collection, which got so much positive attention at the show! The collection was available for pre-order only, and although we knew it was going to be a hit, we couldn't have hoped for a better reception for it! The best-sellers were the Guardians Jacket, The Avengers Bomber Jacket and the Captain America Military Style Jacket, but don't worry as the whole collection will be released to the public very soon!
For me personally, it was my first time at San Diego Comic Con after 5 years of failed attempts of getting tickets from overseas! As a first-time attendee here are my experiences of comic con, including my own personal highlights, my lows and whether or not it was what I was expected. But before I go into that, I wanted to thank Hero Within for making this experience and opportunity for me possible and I hope I have repaid that with my blog and social media coverage of the show!
Highlights
EVERYTHING! No, seriously. I enjoyed every minute of it.
I loved all of the exclusivity of SDCC, and from personal experience, it was amazing to say that I was there when this happened, I was there when this was released, I am the first to see this! Usually this time every year I posted a meme of Ariel from The Little Mermaid sulking over a stone with the SDCC logo on saying "I want to be where the people are". Well this time I was there, and I still cannot believe it.
I got to meet some of my favourite comic artists and actors – Alex Sinclair, Marv Wolfman, Artgerm, Neal Adams, Brandon Routh, Caity Loitz, and Matt Ryan! You don't get to do this anywhere else, it's a place where all of your idols and favourites are in once place, ready to meet and greet fans!
It was my first year at SDCC and I got to go to HALL H! I had dreamt of it for so many years and this year I was there. All of the queuing, waiting in line and lack of sleep was so, so worth it! I loved every second of it, every announcement, every trailer and it was incredible just be in the same room as the likes of Gal Gadot, Patty Jenkins, Jason Momoa, all of them! I admit, I even teared up when it started, I had been hoping I'd get to see it all and experience it one day, and this year I did.
Not only that but I loved exclusive hunting! I'm a huge Superman fan, so I wrote a list of all the Superman themed exclusives and where I can find them. As soon as preview night started, I was on the hunt! Luckily I managed to get most of the ones I wanted which is amazing, and I didn't think I'd get that many. But usually I'm the person who sits on eBay after SDCC was finished to see what I could get and usually for around 4x the price! This year, I packed them all in my suitcase, no extra costs, no shipping fees, just a bunch of exclusives!
Lows
The only low about SDCC… was it finishing and me jumping on a plane back to England. Honestly, I loved every single moment of it and if I had the chance I would go every single year!
SDCC exceeded all of my expectations. Previously I have only attended conventions in the UK and they are not a scratch on SDCC. This truly is the daddy of all comic conventions, and I will cherish every single memory I have and every moment I spent at San Diego Comic Con. I am praying that I am able to get tickets to future years as it is truly my happy place.
Leave your comments on your favorite part of Comic-Con. Thanks Tasmin for your coverage! Check out Tasmin's Hero Story and follow her on The Aspiring Kryptonian. 
Leave a comment
Comments will be approved before showing up.