Our NYCC Update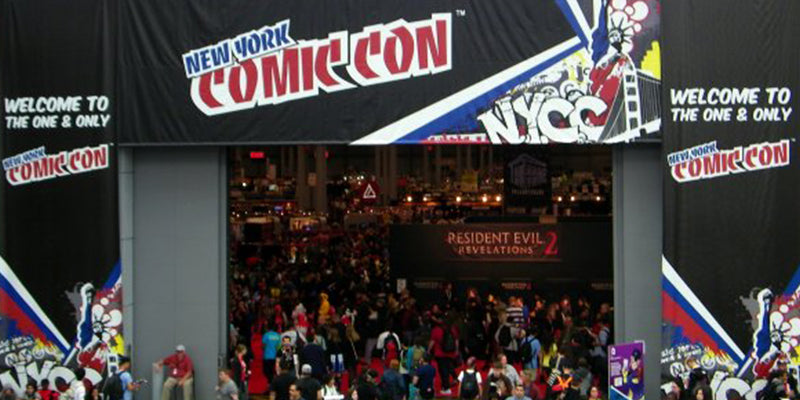 We're back in the Big Apple! This is our third year to exhibit at New York Comic Con and we could not be more excited. Last year we were still in our preorder phase so we had yet to deliver the bulk of our first collection for Marvel. This year, we are returning to NYCC to make up for that! This week we are releasing several new 'casual fashion' pieces ranging from Winter Soldier, Ironman, and more. We are also offering a second wave from our Exclusive collection with Hawkeye, Black Widow and Loki. We will be offering a limited amount of each of our Exclusives daily so come early! Here are a list of what you can pick up:
Winter Soldier Exclusive: $28
Ironman Exclusive: $32
Hawkeye Exclusive: $32
Loki Crop Hoodie Exclusive: $49
Harley Quinn Hoodie Dress: $59
Captain America Endgame Sweater: $59
We also have a very special announcement. Back by popular demand is our Avengers Bomber and Captain Marvel Flight Jacket! Both of these items were our top sellers this past year and sold out in record time. We've been inundated with restock requests and we are finally ready to deliver. We are starting preorders for each item today so place your order while you can. Preorders will close when we reach a certain quantity. Delivery times are expected to be about a month (early to mid November). Samples for fit will be available at NYCC.
Lastly, we are hosting our first panel at New York with our Marvel Fan Challenge. This panels has been hugely popular at several shows this past year. The outcome is always different but the passion among fans is always intense. This audience interactive panel is a late on Saturday night but you won't regret attending. Panel description and details below:
Marvel Fan Challenge Saturday 9p Room 1A24
Nothing has done more to bring our fandom to mainstream popularity than the Marvel Cinematic Universe. However, not all MCU films are created equal. From the first Iron Man to Spider-Man Far From Home, join professional nerds as they debate the last decade of Marvel films until there is an ultimate winner. Audience members will also be invited to join in on the panel discussion! This is a must for any superhero fans! Moderated by Tony Kim and the Hero Within Team.
Leave a comment
Comments will be approved before showing up.