San Diego Comic-Con Recap!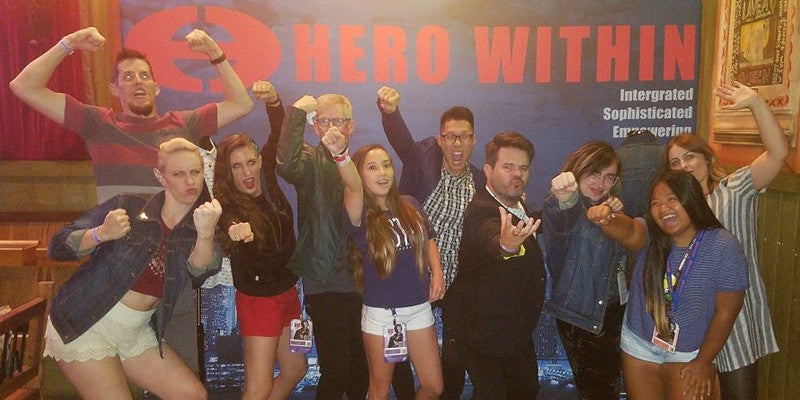 We are back from San Diego Comic-Con! While exhausted and emotionally spent, it ended up being one of the most amazing weeks for our company. Even though we were all SDCC vets, this was our first time to exhibit. For us, there was a lot of guess work involved with supporting a show of this magnitude. How much stock to bring, how to display it, how much staff to have present, what kind of events to attend, etc. We learned a ton of lessons and grateful to avoid any major catastrophes (there were potentially a few).
By this point, San Diego will have been the 4th show to exhibit at. So we are still relatively young at the convention scene. We very were fortunate to get in, especially since last year, all we had was an armful of samples and a hope to get onto the floor this year. We were in a 10 x 10 foot booth which was very cozy. It didn't take long to realize that next year larger booth will be a must. With the limited space, we designed the booth to be interactive, allowing customers to come in and try on our apparel and for us to get to know them. We had the most amazing experience meeting many new fans and hearing their Comic-Con stories. Our Comic-Con Exclusive was a huge hit, usually selling out within the first hour or two. Our limited edition lanyard also were completely given out. Overall, our Wonder Woman Jacket and our Woven Shirt Collection were our best sellers.
A lot of media outlets and blog sites came by to learn more about Hero Within. Publicity has been crucial for us this first year and we couldn't have successfully launched without all the coverage. in fact, you can read Bleeding Cool's amazing article that posted during Comic-Con.
Stephanie and Trevor were a couple of amazing fans that created their own Hero Within promo shirts to wear to the con! Seriously, it's fans like this that give us the fuel to press and to provide even better apparel.
Our CEO, Tony B Kim, was on a number of panels during the week. Hero Within was especially honored to be a part of the Business of Geek Fashion panel with Her Universe, Hot Topic, Think Geek, Rock Love Jewelry and Jinx. It was hosted by fashion advocate Lisa Granshaw (GeekFold). We'll be posting the audio from this panel soon.
We could not be more grateful for Warner Bros and DC Comics for all of their support for Hero Within. We love our partnership with these two fine companies and look forward to a prosperous future together. Above is our promo reel playing in the WB booth.
We also had a chance to present onstage at DC. We shared the origin story of Hero Within, the process of getting our apparel to the market and why we exist. We also shared our newest preorders and gave away some shirts from our collection. Again, major thanks to DC for giving us a couple of slots over the week. DC is an amazing company and we hope to be a part of more opportunities like this.
Later in the week, Hero Within presented at the Pop Culture Shark Tank hosted by Rob Salkowitz. Among the sharks were Suzy Ryoo, VP of Technology and Innovation at Atom Factory and venture partner in Cross Culture Ventures; Ted Adams, cofounder and CEO of IDW Entertainment  and David Steinberger, cofounder and CEO of ComiXology and head of Kindle digital comics worldwide for Amazon. After hearing some amazing pitches, the judges decided that Hero Within prevailed! We will now see where that will lead. You can read about the experience in Forbes.
Oh, we attended the Warner Bros CW Mixer Party and hung out with this guy...
We ended our week in style by throwing an after party at the House of Blues. Our origin story began at Comic-Con so it only made sense to commemorate our first year by celebrating our first year anniversary together with fans. So many people came out that House of Blues had to shut down admission a couple of times in the evening! The evening was spent dancing, having drinks and sharing crazy con stories. It was so successful that we are now considering making it an annual event!
Overall, Comic-Con was a huge success for us. Not only did we demolish our single day selling record (WonderCon) but we exceeded our Comic-Con goals. Most importantly, we had a chance to meet you all and make many new friends. Special thanks to our amazing team that worked tirelessly to make the whole week possible. Our first year has gone by in a blink and we could not have made it this far without your support and purchases. We have many more big plans ahead so stay tuned. Our team is energized and we can't wait to see you again. Leave a comment and let us know your highlight of San Diego Comic-Con 2017.
Leave a comment
Comments will be approved before showing up.