SDCC Tip: A Little Sole Prep (Geek Fashion)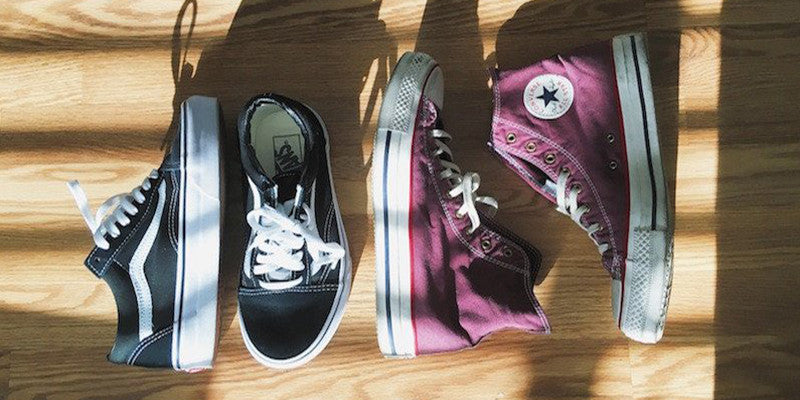 As San Diego Comic Con fast approaches, (yup, less than three weeks) it's never too late to prep. The spectrum of preparation goes all the way from cosplay conception, to last minute exclusives hunting parties.
But what's often overlooked is what really carries us throughout the day, our feet! If you're familiar with the con life, you know that there's no fatigue like con fatigue. At the end of the day when the feet and ankles are throbbing... Worth it, yes, but what did the journey look like?
Literally, what kind of shoes are you wearing around the streets of San Diego to get you from Hall H to Nerd HQ? What will your pics look like when you're taking epic action pics with your favorite cosplayers? Whether it's sandals, sneakers, boots, or cosplay creations, how we trek around SDCC can be a pretty big deal.
If you're cosplaying, the look of the cosplay itself may be more important than comfort. It happens, and it's all good.
But when it comes to those who usually don't cosplay, footwear is crucial to make the overall con experience enjoyable and memorable.
Take these things into consideration when deciding on suitable SDCC shoes:
Comfort - How thick and pliable are the soles of your shoes? You don't have to be an athlete to rock some cool sneakers or at least some Vans or Chucks. Also, investing a few extra bucks in some Dr. Scholls inserts will take your feet a few extra miles.
Expression - Some people wear their shoes as a statement or fashion them out to SDCC like it's a holiday. Of course it can be all of that! SDCC is the pinnacle of nerds sharing in the community that's most accepting!
Versatility - The versatility of Converse Chuck Taylor's and Vans can put perfect punctuation on any statement piece or nerd outfit that you're piecing together while mingling among fellow nerds. In other cases, shoes themselves can be the statement piece of an outfit, being an exclamation point!
Whatever shoes you decide to wear to SDCC, be sure they'll make you feel comfortable both inside and out. Our feet carry us for thousands of steps while taking on countless pounds of pressure each day. Preparing to treat them well with fashion and function in the nation's biggest convention is the least we can do!
Leave a comment
Comments will be approved before showing up.