SDCC Fostering Fashion Auction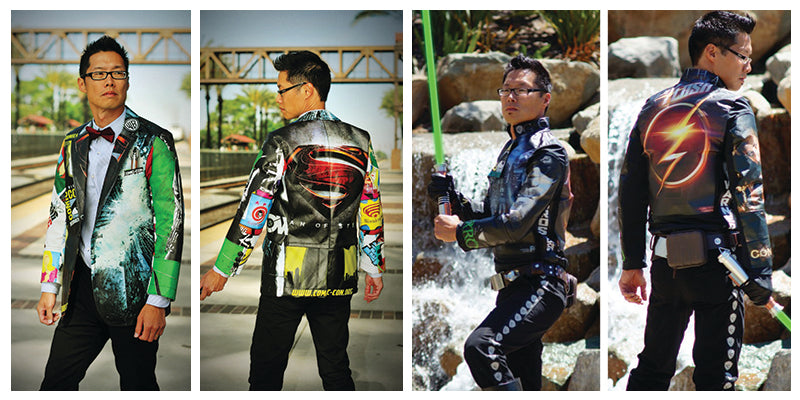 A time honored tradition of San Diego Comic-Con are the official 'Swag Bags' provided by Warner Bros Entertainment. Years ago, what started out as one tote bag to carry your swag has turned into two dozen different back pack designs! Featuring your favorite WB TV series and movies, these vinyl bags are admired, collected and traded at the show. They are synonymous with SDCC and one of the aspects that make the show unique.
Starting in 2013, our founder Tony Kim, decided to do something different and turn these bags into an apparel item. Receiving the bags just days before the show, his first design was a blazer inspired by the 11th Doctor from Doctor Who. The following year, he returned as Luke from Return of the Jedi! Converting these awesome bags has been a fun and creative hobby for him in the past but now, we get a chance to take it to the next level. 
We are excited to announce that for this year's show, we are creating two original jackets with the new WB Swag Bags for our Fostering Fashion Auction! In collaboration with New York designer and former 2015 Her Universe Fashion Show winner, Leetal Platt, we are designing two pieces that we will be auctioned during Comic-Con week (ending Sunday). The Fostering Fashion proceeds will go towards our cause to provide age appropriate comic books for foster children in Orange County. The feeling of being a misfit, marginalized or misunderstood can be overwhelming and comic books can serve to heal and help kids-at-risk in the foster care system. Plus it benefits local comic book stores! You can read more about our cause here.
Over the years, Tony and Leetal Platt have struck up a friendship through Comic-Con. They both share a love for nerd culture and pop culture fashion. She has generously accepted this opportunity to not only help the foster kids of Orange County but provide a unique Comic-Con memorabilia for two lucky fans. Once the WB bags arrive in mid July, Leetal will feverishly work to get these two pieces ready by Preview Night. They will not only represent the 2018 show but will be rare works of art that can be appreciated for years to come.
Fostering Fashion Auction details:
Photos will be released just prior before the show
Items will be displayed and silent auction will be held in the Hero Within booth (2047). Must be present at Comic-Con to bid. Bids in increments of $25 will be accepted. Can not accept online bids.
One men's and one women's items will be made in size medium. No custom size or alterations will be offered. 
Autographs! The interior of the jackets will be signed by Leetal, Tony and maybe some surprise celebrities!
Jackets will be on display at various events throughout the week (TBA)
Auction will end at noon on Sunday (July 22). Winner can take item immediately or it will be shipped. Winner does not need to be present.
We hope you will choose to support the Fostering Fashion Auction. Regardless of your financial bids, you can also support by sharing this cause on social, taking photos at the show and sharing it with friends. Not only will this stimulate the comic book industry but perhaps remind a 'Peter Parker' type youth to find hope and to embrace his hero within.
If your company at Comic-Con would like to make a bid or host the pieces at your event, please contact Info@HeroWithinStore.com.
About Leetal Platt:

Platt spent a year at the Paris College of Art in France, FIDM in Los Angeles, and Koefia Accademia in Rome before resettling in New York. Since 2014 Platt has received numerous awards and recognition for her designs including the 2015 Best in Show award at FIDM, and a spot as a finalist in the Supima Design Competition at New York Fashion Week. With deep research into couture, the use of textiles, and hardware, all come together to form Platt's design point of view, which she calls "Hard Elegance", a timeless mix of the romantic and futuristic. Her website.
Leave a comment
Comments will be approved before showing up.